Door Seal Window Sweeps Channel Kit with Weatherstrip Trim Groove for 1951-1953 GM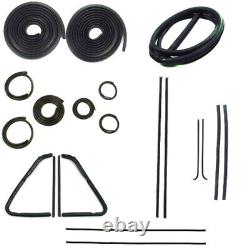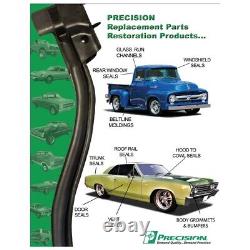 COLLECTORS AUTO SUPPLY Inc - since 1992. Window Sweeps & Felt Kits. Specifications Part Number: CWK 1111 51 Specific Placement: Front & Rear, Left & Right, Upper & Lower Note 1: Models With Weatherstrip Trim Groove. Protect your vehicle's interior from the outside elements and reduce noise level while driving simply by replacing your dried-out or cracked door weatherstrip with a proven product that's accepted in the industry. Made from the OEM specs to install and fit for an authentic appearance.
Kit consists of all the weatherstrip that is available from Precision which includes: Glue On Door Weatherstrip, Upper Channels, Division Post Glass Run, Vent Seal Kit, Chrome Style Windshield Seal with Seamed Division Bar, Beltline Kit, Rear Window Seal. Into each life a little rain must fall, but make sure it doesn't fall inside your car! It doesn't take a detective to know that the water accumulation in your car is a case of broken weather-strips. Unless you want your passengers wading through dark waters every time they sit in your vehicle, get the kit now! Made of top quality material; not susceptible to easy wear and tear. Protect your ride from the great outdoors Be sure to double check the fitment section and ensure this part fits your vehicle. Offers premium replacement auto parts and the experience to get you the right parts for your vehicle. Our group of experts has a combined knowledge of more than a half-century specializing in classic restoration components. Together, we've been making old rides new again for more than 25 years. The customer service from Collectors Auto Supply is unparalleled, and our products are top-notch. If you've been searching for a hard-to-find replacement component, look no further.
We have countless suppliers throughout the country, which means, if the part you need is out there, we'll find it. This product is guaranteed to be free of defects in material and workmanship. Our guarantee is valid only if our product has been properly installed in the vehicle for which it was designed to fit. We're car nuts and love helping people with restoring their classics. We've been doing this for over 30 years and going strong.
Finding the perfect part for your classic car can be difficult, and even frustrating. And let's be honest. What makes it worse is a general lack of customer love in the industry.
That's why we're here, and that's why we're different. We're car people just like you, and we know what you need. And if we don't already know it, we're listening. So, get in touch with us if you need help finding a part or have a question.
---