Upper Control Arm Lift up 3 Fit For Nissan Frontier Navara D40 05-18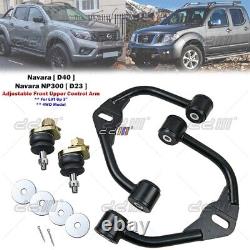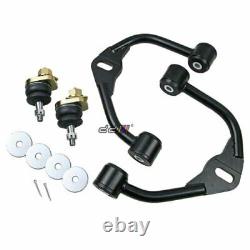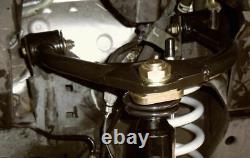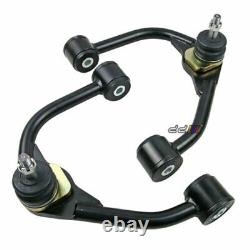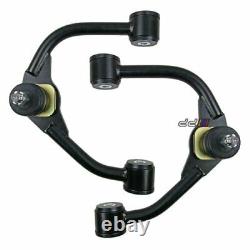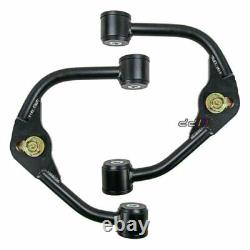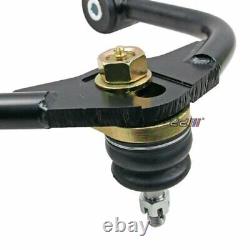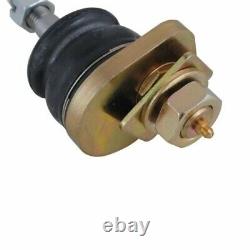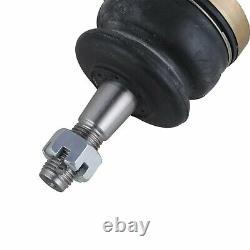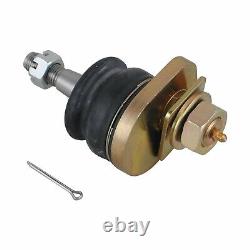 Lift Up 3 Frontier D40 MNT 4WD 05-14 Fits Adjustable Front Upper Control Arm. While minor adjustments can usually be done with the lower camber bolts, bigger lifts will need a lot more! Another problem many find is that once a longer travel shock or a spring package that allows increased travel is fitted, the upper control arms may contact the chassis or the spring itself. A steeper angle on the upper control arm moves the steering knuckle inboard and increases the angularity on the ball joints, sometimes maxing out their movement.
With a raised suspension height, the 3rd Party upper ball-joint is forced to operate at an extreme angle and wider tires may not clear the factory upper control arms. An over-stressed 3rd Party ball-joint also has the potential to separate or break, leading to catastrophic failure of suspension, steering, and CV axle.
The preferable solution is to replace the factory arm with a newly designed upper arm, which allows greater clearance for the thicker or heavier aftermarket coils generally required to lift the vehicle. These Upper Control Arm featuring with ball joint and high-quality bushings, this arm is designed to correct alignment angles while maintaining factory ride quality. Cast steel designs provide the strength and durability needed for the most demanding environments.
This arm provides 2 degree of positive caster change over the stock control arm with the ball joint in the 0 position. This means the range of caster adjustment will be 0 degree to 4 degree of additional positive caster. Not Including Installation Guide or Manual.
This part should only be installed by personnel who have the necessary skill, training and tools to do the job correctly and safely. Incorrect installation can result in personal injury, vehicle damage and / or loss of vehicle control. Only Fits For 4WD & LIFT UP 3 VEHICLE MODEL - Does Not Fit For SPAIN-BUILT MODEL (VIN Number start with VSK). Lift Up 3 & 4WD, Thai Built Model (VIN Start w/ MNT). Lift Up 3 & 4WD Model. 2005 - 2014 Fit for Navara D40 Lift Up 3 & 4WD, Thai Build. Model (VIN Start w/ MNT). 2015 - CURRENT Fit for Nissan Navara D23 NP300, Thai Build Model (VIN Start w/ MNT). 2005 - 2014 Fit for Frontier D40 Lift Up 3 & 4WD.
2005 - 2012 Fit for Pathfinder R51 Lift Up 3 & 4WD. 2005 - 2015 Fit for Xterra N50 Lift Up 3 & 4WD Model.
2008 - 2012 Fit for Suzuki Equator - Lift Up 3 & 4WD Model. 1 Pair (Left & Right) Front Upper Control Arm. Packing Size : 40 x 32 x 12 cm. Packing Weight : 7.5 kg Actual Weight: 3.0 kgs. Therefore, you're advised to change your address details before placing order.
All parcels are authorized to leave parcel at door or outside due to courier service no access to customer's home. Deliver to address with PO Box, APO, FPO, HC Box, Parcel Box and any contain Box number address. Your order is handled with care and attention.
All products are checked thoroughly before posting. Should you notice the item is arrived in damage condition, please do not hesitate write to us or leave us message with an unboxing photos or videos. Please ensure the damaged product is in original, unused condition including the parcel box / mailer bag in wrapped packaging together with UPC bar code.
---